A Letter from 2016 Scholarship Recipient Jordan (Eng) Foust
My name is Jordan Foust, I am 23 years old. I have a Bachelor of Science degree in Marine Transportation from the California State University Maritime Academy. I hold a 3rd mate unlimited license, mate of towing upon oceans and a 100 ton master near coastal. I was graciously awarded a scholarship from YMTA in 2016.
In 2016 I started my freshman year at Cal Maritime, I had huge aspirations to make a difference in myself as a leader and to grow as a mariner. To do this I knew I couldn't just stand on the side lines as a normal cadet. It was up to me to pursue leadership roles and push myself out of my comfort zone.
I started from the bottom as a squad leader, in charge of taking muster of 7 cadets at formation. Though it was a small leadership role, it helped get the ball rolling for the positions I would pursue later on in my time at the academy. As a sophomore I became division 4 support staff my primary job was to ensure the squad leaders were taking accurate muster. That same year I was given the opportunity to be Corps Operation Officer. This was a huge leap in responsibility, but I was ready for the challenge. This job required my influencing the entire student body. The next year I stood as deck company executive officer, which worked closely with the corps and division leaders. This taught me how to better work with chain of command as you would aboard a vessel.
The first 3 years at CMA were building blocks for the pinnacle of my career at the Academy which was Cadet Chief Mate my senior year. My job included creating a station bill for over 300 people, assigning rooms and room mates for every cadet and still have time to listen to everyone's concerns both ship staff and cadet alike. After all of my leadership experience I had molded myself to show empathy for my peers while holding firm on rules and regulations set by the Academy.
After 4 years I sailed across the Pacific Ocean as far as Hawaii and through the Panama Canal, across the Atlantic to Lisbon, Portugal. I spent 2 summers aboard Foss tugboats both on the harbor boats in Puget Sound and their ocean tugs. I graduated Cal Maritime with the award of Top Deck Cadet.
I am currently aboard the Michele Foss, sailing as an able bodied seamen. We are currently on our way back from the North Slope of Alaska towing two barges in tandem. Looking to my future in the maritime industry there are endless possibilities, but I have an absolute passion for driving tug boats and have set my sites on Captain of a Foss Puget Sound harbor tug.
I want to thank Youth Maritim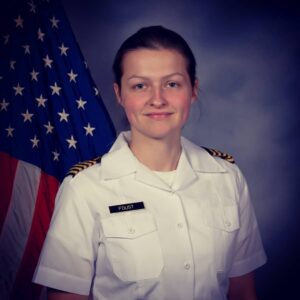 e Training Association and Puget Sound Maritime for coming together for young mariners. The industry has a continuous need for new dedicated mariners and your organization is helping create these mariners.
All my best,
Jordan Foust
---
Troy Joey, a success story unfolds
Gary Stauffer, President Youth Maritime Training Association (YMTA) has been mentoring and caring for Troy Joey since June of 2011. Troy was a homeless and disadvantaged student at an alternative high school in White Center when Gary was asked by Beverly Mowrer, a teacher at New Start High School, to help find him a job in the maritime industry. Troy has been able to overcome a number of obstacles with the help of our waterfront of marine youth programs including Sound Experience, NW Seaport, Center for Wooden Boats, Youth Care, and YMTA.
Sound Experience introduced Troy to sailboats and seafaring careers, NW Seaport provided Troy with part-time job and a stateroom aboard the Arthur Foss, CWB accepted him into their Job Skills apprenticeship program which gave him training in maritime skills and the all-important soft job skills. Youth Care provided counseling, support and a GED program, and Gary provided guidance and support as a mentor.
Troy is now 21 years old and currently a cadet in the seamanship program at the Tongue Point Job Corps Center in Astoria, Washington. Troy has been the featured speaker at Sound Experience's 2012 fundraising dinner and at 2013 CWB dinner and auction. Both organizations raised thousands of dollars upon the conclusion of his life story. In January Troy will have completed 18 months at the Center and will need a 45-day internship aboard a commercial workboat as part of the requirements prior to completing his training for a Able Body (limited) license.
Troy completed the GED program at Job Corps prior to starting his seamanship program. Although he has not completed the Deck training, he has a TWIC, MMC, completed STCW Basic Safety Training and the lifeboatmen course along with a number of other skills and courses. He also has a number of sea days under his belt.
Troy successfully finished the Qualified Member of the Engine Department (QMED) training in November. During the latter half of his QMED training, Troy was the "Person in Charge" aboard the T/V Ironwood. Troy has come a long way since his early days aboard the Arthur Foss, which is still his only home away from Tongue Point. He has learned how to work, be on time, study and pass examines although it has not been easy for him. He should finish in the spring of 2014 and be on his way to a seafaring career. Those of you who know Troy know that this is a great accomplishment.  All of our work to redirect his life is paying off.  Gary thanks everyone who has helped get Troy to this level. Troy has since graduated from Tongue Point and is successfully working for a Tugboat Company in the PNW.
---
Nevin Garcia – CMA class of 2012
Nevin Garcia's mother, Nancy is employed by Foss Maritime in Seattle, Washington. Through the YMTA she learned about a maritime program at Ballard High School and encouraged her boys to join. As Nevin moved from middle school to high school his family took an interest in boating, they loved to go crabbing in Puget Sound. Nevin's older brother by two years, Alvin joined the Ballard Maritime Academy in the tenth grade. He graduated and went to California Maritime Academy graduating their engineering program. Alvin currently sails aboard ships as an engineer. Nevin followed in his foot steps. The Garcia family has every reason to be very proud of their boys!
Nevin's story – While attending Ballard High School from 2004 to 2008, I was fortunate enough to be a part of the Ballard Maritime Academy program. This program does not follow the usual general education curriculum; it is unique in that it involves valuable, hands-on learning. The BMA allowed my interests for the water and of boats grow to the point where I decided to apply to the California Maritime Academy in Vallejo, California and pursue a U.S. Coast Guard license to operate vessels around the world (and to earn a Bachelor of Science Degree as well). With the help from scholarships sponsored by the Youth Maritime Training Association and Puget Sound Pilots, my financial burden from college expenses lessened and I was able to focus my energy on passing all my classes.
Upon graduation from Cal Maritime in April 2012, the towboat company, FOSS Maritime Company, hired me on as a Second Mate. I have already completed two trips up to Alaska and a trip from Seattle to Louisiana through the Panama Canal. I hope to continue to work on towboats and earn the required number of sea days to upgrade to Captain. Attending the California Maritime Academy was one of the best decisions I have made so far in my life. I am thankful for the BMA's and the YMTA's guidance and support because am I now able to enjoy a very interesting, rewarding, and exciting career.
---
Former BMA student excels at Cal Maritime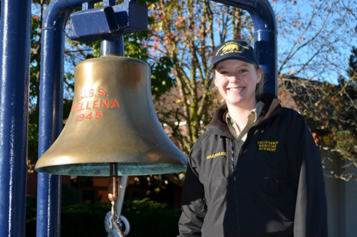 On January 13, 2013 Gary Stauffer, YMTA President received the following note from Ken Passe, YMTA Board member and California Maritime Academy's Washington State Representative.
I'm delighted to report that Lauren Grasdahl, a graduate of the Ballard Maritime Academy and now a senior Marine Transportation (deck officer) cadet at Cal Maritime, successfully passed all 7 segments of the US Coast Guard license exam during this past week.
As a part of the tradition at Cal Maritime, Lauren joined her other superstar classmates, who also went "7-for-7", in ringing the ship's bell that is specially setup for this occasion.
I have been fortunate to work closely with Lauren, as she is the senior class representative on the Alumni Association's Board of Directors, and I can tell you that she is a fine young woman and excellent representative for her class and for the Academy. During her schooling, Lauren has been awarded scholarships from YMTA, the Puget Sound Pilots and ABS. She also works as a Resident Advisor in the residence hall and is the Cadet 2nd Mate. Although she has completed the license exam, likely the most nerve-wracking part of her senior year, Lauren still has one more semester of academic work ahead, before she graduates on Saturday, May 11th.
Congratulations to Lauren Grasdahl!